The Boston Celtics are among the most talented and famous teams in professional sports. Sine the team was formed in 1946, the Celtics have won sixteen NBA championships till now. Between 1959 and 1966, the team won eight titles marking the longest streak of successive championships in United States sports history. The Celtics are the best-known rivals of Los Angeles Lakers as they played against them ten times in the NBA Finals. In 1949, the BAA and the National Basketball League (NBL) combined to become the NBA. The following year Celtics engaged two players center Ed Macauley and rookie Bob Cousy. Ever since the joining of rookie Bill Russell in 1956, the Celtics climbed the ladder of success.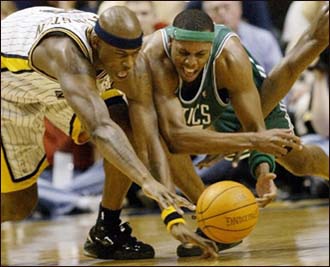 Boston won over the St. Louis Hawks in 1957 in their first NBA championship in a double-overtime seventh game. The following season, Celtics included K.C. Jones who helped the team to defeat the Minneapolis Lakers and win the NBA championship. The Celtics and the Lakers played six more NBA Finals in the 1960s. Through 1960 to 1966, Auerbach coached the Celtics and led them to seven more NBA championships. Guided by coach Red Auerbach, the Celtics included greats NBA players such as guards Bob Cousy, K.C. Jones, Sam Jones, and Bill Sharman; forwards John Havlicek and Frank Ramsey; and center Bill Russell..In 1965, during their final game against the Lakers, Havlicek stepped in front of an inbounds pass for a steal with five seconds left, sealing the Celtics' victory. Coach Auerbach retired from the team post their 1966 victory over the Lakers. Thereafter, Russell became the first black head coach in major league professional sports, when he took over as player-coach. Russell retired before the start of 1970-71 season and Heinsohn came in his place. Boston ended the season with its first losing record in 20 years. In 1976 season, Celtics defeated Phoenix Suns and earned their 13th NBA crown. Post the 1976 season, the Celtics included Larry Bird who went on to win the rookie of the year award in the 1979-80. He gave a push to the team with his brilliant shooting and passing. In the 1980s, the Celtics played five NBA Finals and won titles in 1981, 1984, and 1986.
During the 1980s K.C. Jones was the head coach of the Celtics and the team highlighted with players like forward Kevin McHale, center Robert Parish, and three-time NBA most valuable player (MVP), forward Larry Bird. Jones guided the team to three NBA championships against the Lakers from 1984 through 1987. Boston Celtics lost to the Lakers in the 1985 NBA Finals but won another title by winning over the Houston Rockets, the following year. Larry Bird retired from the team before the 1992-93 season and star forward Reggie Lewis died of heart failure in 1993. The Boston Celtics were not the leading team in NBA Association. The team shifted to FleetCenter, their new home during 1994-95 season.